Our Advertising
From TV advertising to poster sites, web banners to backs of buses, AXA has a varied portfolio of promotional materials across a range of media. Please view selected adverts from our latest campaign plus previous promotions from our archive.
AXA's latest campaign
AXA's new advertising campaign focuses on the little things that mean a lot.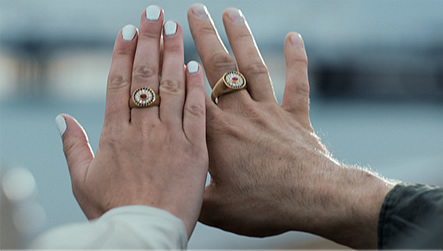 Caring about fine details and the personal touch makes a big difference. Our customers can rely on the right support when they need it most – whether it's the benefit of an innovative product or feature, or simply a kind word at a difficult time.
Little things mean a lot.
AXA's TV advert features a cover of the original '50s song 'Little things mean a lot' which was arranged and performed by Jack Durtnall on the ukulele with vocals by Emily Harvey.
Little things mean a lot - jewellery replacement
A feature of AXA contents insurance is highlighted in this campaign, which tells a story of a couple's trip to Brighton, a burglary, and how AXA helps make things better.
AXA's advertising archive
Find out more about previous AXA campaigns to promote our products and service. Please note that features and offers in the advertising archive may no longer apply.
Respect on the Road was our car insurance campaign 2010 - 2011.
AXA car insurance aims to bring respect back to Britain's roads by encouraging courteous driving and rewarding experienced drivers.
Our 'Respect on the Road' advertising campaign led with a TV advertisement entitled 'Pavement Rage'. Under the strapline, 'Experienced Drivers Wanted'. The TV advert shows a range of inappropriate pavement rage behaviours designed to represent how people often behave when driving. It poses the question "You wouldn't behave this way on foot, so why would you when you are driving".
TV Adverts


Poster Adverts


Bus Adverts